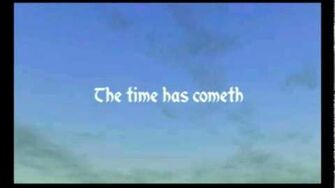 Dungeon Keeper 3: War for the Overworld
is a cancelled PC strategy game developed by Bullfrog Productions for Microsoft Windows.
Dungeon Keeper 3
was set to be the next instalment in the
Dungeon Keeper
franchise. The sequel to
Dungeon Keeper 2
, it was set to lead the player to do battle in the surface realm of the goodly heroes. A short trailer for the game is included in
Dungeon Keeper 2
, which shows
Horny
reaching the surface world.
High-level conceptualisation and design documentation formally began after the release of Dungeon Keeper 2 in June 1999, with a small design team drawn from the same development staff. Game designer and scriptwriter Zy Nicholson resigned from the studio in late 1999 and was replaced on the project by Ernest W. Adams. Though never officially announced by publisher EA, development was acknowledged by a website update from the DK3 team in early February 2000. Development was cancelled in March 2000, though it was not until August of the same year that Bullfrog Productions revealed that the game had been cancelled. At the time, Bullfrog's website explained that it had cancelled production to work on other projects:
"A third episode of the Dungeon Keeper saga was underway, but opportunities to develop new intellectual properties on new platforms such as PlayStation 2 have meant that DK3 has been put on hold. There are currently no plans for another Dungeon Keeper game, however it remains an important franchise and there may be opportunities for us to pursue that direction in the future."
The projects that provoked Dungeon Keeper 3's cancellation were EA's Harry Potter and Lord of the Rings games. Though there are no plans for developing any new Dungeon Keeper games at the moment, the Bullfrog statement points out that this is always a possibility for the future.
Improvements in the economy and multiplayer aspects of the game were planned, and a new race, who appeared to have some sort of affinity with nature, was conceptualised. In addition, the new race, as well as the goodly heroes, were designed to be playable.
War for the Overworld
Edit
See War for the Overworld for more info.

On 29 November 2012 game developer Subterranean Games started a Kickstarter campaign for the creation of War for the Overworld, as a spiritual successor of the Dungeon Keeper series.
"War for the Overworld is shaping up to be a great God Game that brings back fond memories of both creating and playing Dungeon Keeper 2. I wish the team the best of British in bringing their creation to life." – David Amor, Chief Creative Officer at Relentless, ex-Bullfrog Productions
References
Edit
Dungeon Keeper Series

Bullfrog Productions

/EA

Main Games

Dungeon Keeper (Demo) / Dungeon Keeper 2 / Dungeon Keeper 3 / Dungeon Keeper Online / Dungeon Keeper Mobile

Add-ons, expansions and tools

The Deeper Dungeons / Dungeon Keeper Gold / Dungeon Keeper Premium / Dungeon Keeper Collector's Edition / Dungeon Keeper Editor / Dungeon Keeper 2 Editor

Fan projects

Main Games

Natural Born Keeper / War for the Overworld

Add-ons, expansions and tools

DK1 Editors / ADiKtEd / UnDed / DKTools / Dungeon Keeper FX / OpenKeeper
Community content is available under
CC-BY-SA
unless otherwise noted.