"Pick an enemy creature to destroy."
— Hint box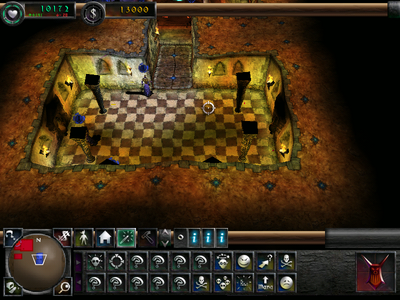 This magical item allows you to assassinate an enemy creature. Using this turns the Hand of Evil into a crosshair, and when one clicks on an enemy creature, that creature instantly dies. Note that you have to be able to see the enemy creature in order to kill them, and it is best to kill off particularly problematic opponents.
Dungeon Specials

Dungeon Keeper

Increase Level / Locate Hidden World / Make Safe / Multiply Creatures / Resurrect Creature / Reveal Map / Steal Hero / Transfer Creature

Dungeon Keeper 2

Destroy Walls / Heal All / Increase Gold / Increase Level / Kill Creatures / Locate Hidden Land / Make Happy / Make Safe / Make Unhappy / Mana Boost / Receive Imps / Reveal Map / Stun Imps / Transfer Creature
Community content is available under
CC-BY-SA
unless otherwise noted.